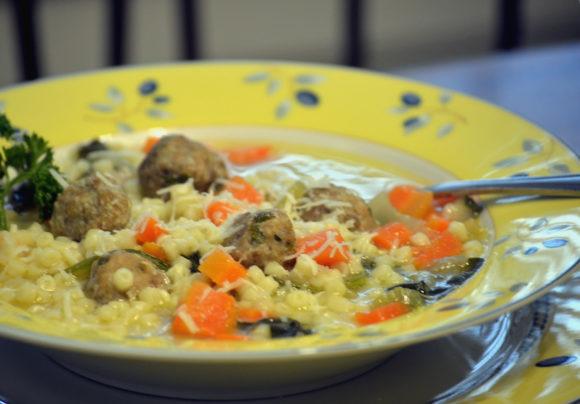 Italian Wedding Soup has an odd history.  I was introduced to it by our daughter, Kate Newberry.  Although I could not trace it's origin, I am pretty sure it is not served in Italy at weddings.  The "Wedding" is not an event, but is the marriage of meatballs and spinach.  The end result has many of the same flavors found in one of the first recipe's I charted.  It resembles my Nana Sarullo's Sicilian Soup that I recreated over six years ago.  Nana and her family would not have put meatballs in her soup.  Nevertheless this is a very tasty dish and will please everyone in your family.
Meatball Ingredients
1 Pound – 85/15 Ground Beef
1 Pound – Ground Turkey
2 Each – Large Eggs
1 Cup – Fresh Parsley Leaves
2 Cloves – Garlic, minced
3/4 Cup – Italian Breadcrumbs
1 Cup – Fresh Parmesan Cheese, grated
2 Teaspoons – Salt
Soup Ingredients
1/4 Cup – Extra Virgin Olive Oil
1 Each – Large Onion, diced
6 Each –  Carrots, sliced fine
6 Ribs – Celery, sliced fine
1 Gallon – Homemade Chicken Stock
2 Teaspoons –  Salt
20-24 Ounces – Fresh Baby Spinach
1 Pound – Acini de Pepe Noodles (or tiny star noodles)
3 Each – Large Eggs
1/4 Cup – Fresh Parmesan Cheese, grated
1/2 Cup – Fresh Parsley Leaves
Cooked meatballs from ingredients above
Meatball Instructions
Preheat oven to 350 degrees.
Combine meatball ingredients in a mixing bowl.
Mix ingredients by hand until you hear, "Papa, my hands are COLD!" Do not over-mix. 
Roll meatballs into balls the size of large marbles, or about the diameter of a nickel.
Place on two large cookie sheets covered in foil.  Oil will not be necessary. 
Cook for 15-20 minutes until meatballs begin to turn brown. 
Cool as the soup is being prepared.
Soup Instructions
Begin with an extra large Dutch oven.  Mine is 13″ in diameter and 5″ tall.
Chop the celery and carrots into 1/4″ cubes.
Saute the onions, carrots and celery in the olive oil until the onions are clear.
Add chicken stock and salt and bring to a slow boil.
Simmer until vegetables become soft, approximately 30 minutes.
Add Acini de Pepe noodles and cook until al Dente, approximately 10 minutes.
Add the fully cooked meatballs and bring to temperature of soup.
Add spinach.  The volume will reduce to very little.
In a small bowl combine the remaining Parmesan cheese and the remaining 3 eggs and blend with a fork.  Pour into the soup and immediately stir until fully incorporated. This will add extra richness.
Add the remaining parsley leaves and serve.
Serve with Italian Paninis of basil pesto, salami, bologna and provolone cheese for a perfect pairing.
Serves 10 adults and a bunch of off-spring Italian kids. Some will eat the meatballs first.  Some will eat the pasta first.  All will disappear.