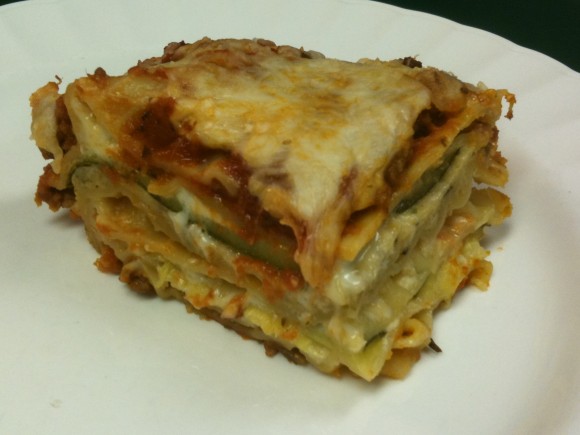 Caution: This recipe yields two pans of tasty lasagna that will put the knees of family members under your table on Sunday, and in the middle of next week.
Ingredients:
1 Tablespoon – Extra Virgin Olive Oil
2 Pounds –  Sweet Italian Sausage
1 Pound – Lean Ground Beef (96/4)
1 Each – Large Onion
4 Cloves – Garlic. Minced
3 – 14.5 oz. Cans of Petite Diced Tomatoes
4 – 15 oz. Cans of Tomato Sauce (one more than in the photo)
3/4 Cup – Water
1/4 Cup – Fresh Basil Leaves, Finely Chopped
1 Teaspoon – Fresh Thyme, Finely Chopped
1 Teaspoon – Fresh Oregano, Finely Chopped
1 Teaspoon –  Italian Seasoning
2 Tablespoons – Salt
1/2 Teaspoon – Ground Pepper
1 Cup – Fresh Parsley Leaves, Finely Chopped
4 Boxes – Oven Ready Lasagna Noodles (approximately 13.25 oz. each)
4 Ea – Large Eggs
3/4 Cup Parmesan Cheese, Freshly Grated is Preferred
2 Pounds – Mozzarella Cheese,  Grated
5 Ounces – Breadcrumbs
1/2  Cup –  Black Olives, Chopped
(Optional) 1 Pound – Ricotta Cheese
Preparation
Brown your sausage and beef in a dutch oven or deep skillet with the 1 tablespoon of extra virgin olive oil.  Drain excess liquid.
Stir in the meat ingredients: onions, garlic, diced tomatoes, tomato sauce, water, basil, thyme, oregano, Italian seasoning, salt, and pepper.  Bring to a boil.  Simmer for 1.5 hours.
Slice zucchini into thin strips, slightly thicker than 1/8″.  Boil in deep skillet or dutch oven on low until they are tender, about 15 minutes.
Mix remaining (non pasta) ingredients: eggs, Parmesan cheese, Mozzarella cheese, breadcrumbs, black olives parsley and (optional) Ricotta cheese.
Now you have four (4) building blocks.  Meaty sauce, lasagna noodles, cheesy mixture and zucchini.
Begin your layers with sauce, then noodles, zucchini, and cheesy mix. Repeat, ending with cheesy mixture.
Preheat oven at 375.  Cover with aluminum foil and bake on medium rack for 30 minutes.  Remove foil and cook for an additional 20 minutes (50 minutes total).
Allow lasagna to rest (cool) so it can be cut easily, about 20 minutes.  This is the hardest step.
Note: This recipe uses "Oven Ready" lasagna noodles that do not require pre-cooking.  At the end of this prep, ensure you have enough liquid to "boil" the noodles in the pan.  If not, simply add a cup or two of water or tomato sauce.  It will be absorbed by the noodles.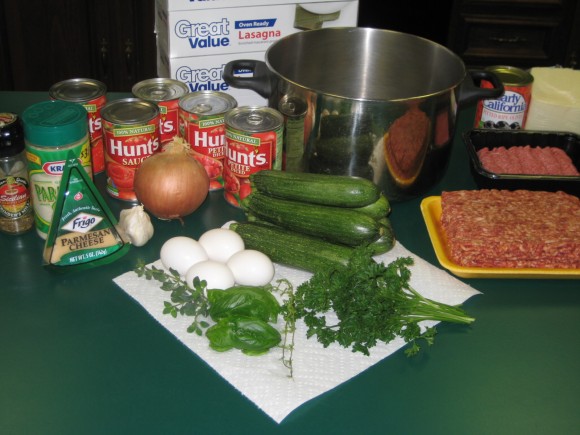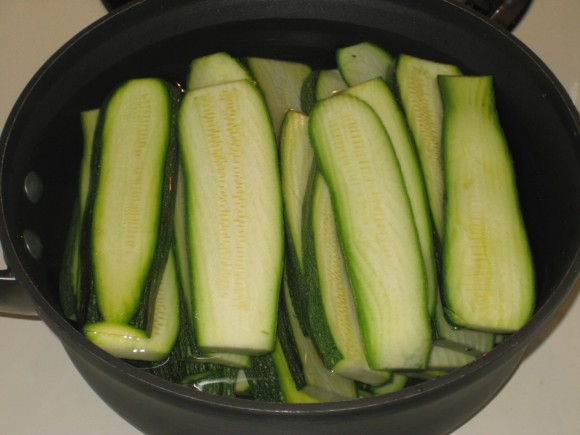 This recipe makes one (1) 9″ x 13″ and (1) 10.5″ x 15″ pan of lasagna.  We made one pan very "meaty", and one pan mainly "veggie" as you can see in the top photo. Each pan will feed eight adults, and a bunch of "Italian blood-line" grandkids.
Final Steps
Serve by cutting into 3″ squares and  topping with fresh Parmesan cheese.  Serve with an Italian salad and garlic bread and you have a full meal deal!
If you have caller ID, you don't have to answer the phone on Monday or Tuesday.  Your family will just be calling to see if they can "drop by" for a visit … around Lasagna:thirty.