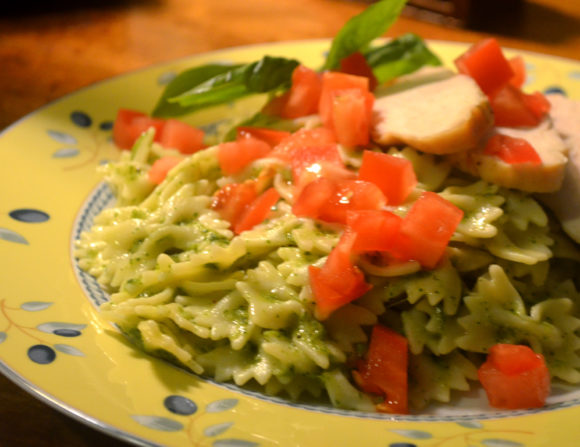 Basil is the classic Italian herb.  My grandmother, Nana Sarullo, used it often in her pasta sauces.  Italians call it spaghetti gravy.  I don't remember her making pesto, but the aroma of the garlic and basil sure makes me think of her home.  I frankly did not hear the term "Basil" until I was in high school.  My Italian rooted family called it the Sicilian name, "Basilico." Pronounced Bah-SLE-Go.
This batch of basil came from my recent herb garden.  It was FRESH and full of flavor!  You can prepare this recipe with or without chicken.  You may cook chicken in advance on the outdoor grill.  You may prepare chicken in your oven using this simple recipe  or prepare it your favorite way.  It will all be good.  The pesto is the star of the show.
Pesto Ingredients
75-100 Each – Fresh Basil Leaves
6 Ounces – Parmesan / Romano Cheese, rough grated
3 Cloves – Fresh Garlic
1 Teaspoon – Salt
1/2 Teaspoon – Pepper
1/3 Cup – Extra Virgin Olive Oil
Additional Ingredients
1 Pound – Pasta, cooked al Dente per package instructions
1 Small – Tomato, cubed
3 Ounces – Parmesan Cheese, topping
2 Each – Skinless Boneless Chicken Breasts, cooked your way.
Pesto Preparation
Clean and dry basil leaves and press them into a quart sized food processor.  I use the Ninja Master Prep Pro.  Spin them briefly to reduce the bulky size. 
Add the cheese and the balance of the ingredient. 
Grind everything into a fine texture.
Additional Prep
Add pesto mixture to your prepared pasta.  Any style pasta will be outstanding.
Add chicken, tomatoes, Parmesan cheese and a garnish of fresh basil.
 Serves 6 adults and bunch of kid that have no idea what Basilico is.